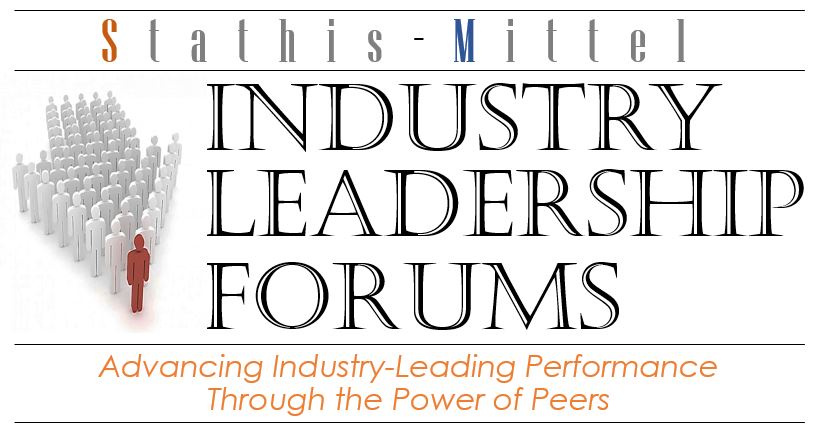 ---
Real Business Intelligence
Bob Mittel has teamed with Stathis Partners to produce the Industry Leadership Forums; a series of peer group meetings for executives of bank and credit union investment services programs who strive to be leaders in the industry.
We strive to create an environment where you and your colleagues gain valuable business intelligence via peer group knowledge exchange and aggregated research. The meetings are moderated with the intent to tap into valuable participant experiences which become the basis for dynamic discussions. Our hope is that this knowledge exchange provides ideas that increase the competitiveness and success of you and your organization.
We also strive to provide a valuable networking experience where participants and sponsors meet like-minded executives that become beneficial industry connections.
In short, our desire is to be an industry catalyst in order to help you with your business development goals, and our channel become more competitive in the broader industry.
---
A primary objective of the Industry Leadership Forums is to increase the competitiveness of our channel, and create an ongoing program for executives who strive to be leaders in our industry.
---

---
Save the Dates!
Join Your Peers at our 2020 Executive Leadership Forums.
We limit our meetings to about 30 participants in total with no more than five sponsors to increase the value gained by intimate roundtable discussions. We also provide ample social time to for professional networking.
2020 Forum Schedule
April 29-30 – Bank/CU Annuity and Life Council
June 2-3 – Program Management Success
Sept 30-Oct 1 – LBE and Multi-Channel Distribution Forum
Dec 9-10 – Program Best Practices Year-End Wrap-Up
Registrations will start soon!. Call us for more information.
---
Click here for additional details
Click here if you are a company interested in roundtables customized just for your organization.
Click here if you are interested in becoming a sponsoring partner.
Click here for our forum archive
---
2019 Forum and Industry Workshop Dates
March 6th – TPM Client Bank/Credit Union Peer Group at the BISA Conference
Peer group moderation: Evolution of program structure, compensation, fees, advisor optimization, and internal partnerships
March 7th – Why an Investment Program is Critical to the Future of Banking at BISA Conference
Panel Discussion Moderation: This session will discuss the value an investment program brings to the institution and how to communicate that value to executive management of the institution to achieve maximum buy-in.
May 14-15 – New Orleans – Investment, Insurance & Technology Optimization
This will be a gathering of investment program executives focused on optimizing program performance by leveraging evolving technologies as well as increasing operational efficiencies to stay profitable.
June 5-6 – Loews South Beach- Annual Bank Life Council
A meeting of life insurance program leaders focused on increasing life sales through the bank and credit union channel.
Oct 2-3 – Indianapolis– Licensed Banker and Multi-Channel Distribution Forum
The third annual meeting of executives focused on leveraging platform program and alternative distribution models to optimize institution client penetration.
Nov 21-22 – Hard Rock Orlando – Program Best Practices Year-End Wrap-Up
A peer group forum where the discussion will focus on best-practices in successfully growing investment and insurance programs. This year-end wrap-up will leverage insights gathered through our research, forums, and consulting work over the course of the year that enable programs to achieve a competitive advantage.
---
Industry Leadership Forum attendance is by invitation only. If you don't receive an invitation to the meeting you are interested in three months prior to the event, please contact us to request an invitation.
Thanks to our sponsors there is no cost for executives from banks and credit unions to participate in these forums. In addition, travel expenses will be reimbursed up to $600.