2018 Forum Dates
January 23-24 – Investments and Insurance Summit
Product Strategies for Tiered Delivery Channels
May 23-24 – Orlando – Competing in a Commoditized World
A forum for Program & Sales Managers
June 13-14 – New Orleans – Bank Life Council
A forum for executives committed to being catalysts for improving life sales in the channel.
Sept 25-27 – Tech Demo Days (Postponed until 2019, date TBD)
A unique event where operations and technology executives can experience technology demos by leading industry providers and join a group of peers to discuss leveraging technology to meet the evolving challenges of the market.
Oct 23-24 – Indianapolis– Platform Program Forum
The second annual meeting of executives focused on leveraging the platform program to optimize the effectiveness of a tiered rep force.
Dec 11-12 – Orlando – Investment and Insurance Summit
A forum for executive leaders and product managers where the discussion will focus on best-practices in successfully providing investment and insurance guidance. This year-end wrap-up will leverage insights gathered through our research, forums, and consulting work over the course of the year that enable programs to achieve a competitive advantage.
---
2017 Dates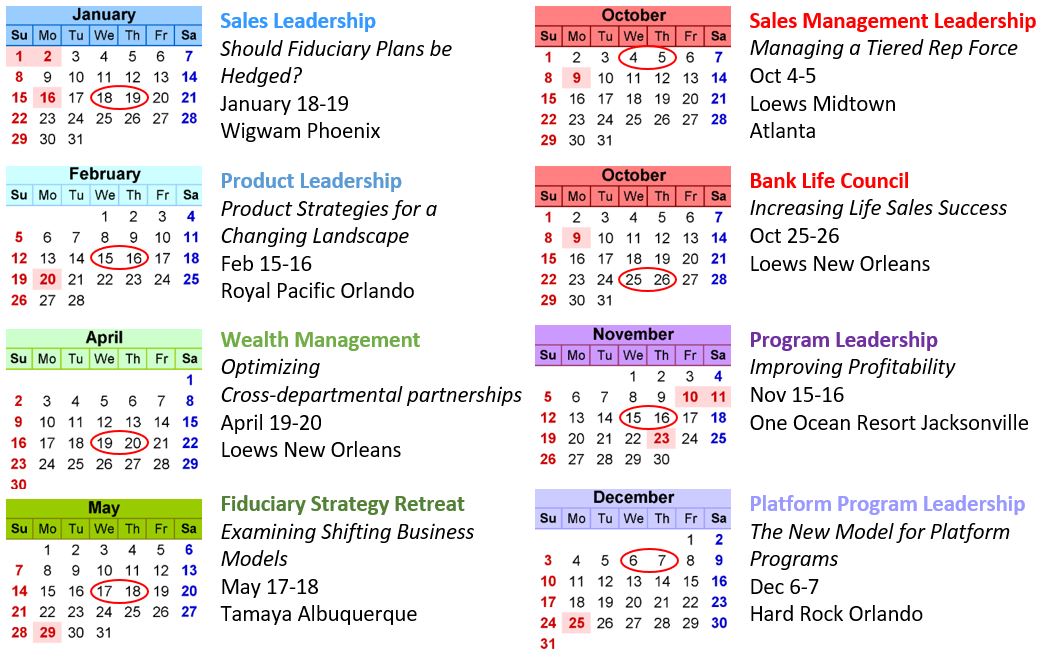 ---
The following were the forums Stathis Partners and Bank Investment Consultant hosted in 2016