Providing Core Business Intelligence
With the recent addition of Janet Cappelletti, Stathis Partners will follow through on the continuing evolution of the industry standard benchmarking and best practices research the team has been known for since 2009.   Custom research is also available based on key drivers that resonate with specific program types.
The goal of our research is to provide straight-forward and digestible business intelligence needed to run an investments and insurance services organization in a bank or credit union.
Announcements on industry research reports will be coming soon. Meanwhile if your organization is interested in custom research please contact us.
---
Industry Benchmarking Study – Assess Your Program's Performance
The industry Benchmarking Study has been delivered to the industry for 25 years. The study is an investment program analysis and management tool focused on key performance indicators that provides metrics used to benchmark program strengths and weaknesses, set realistic targets for improvement, and manage program growth. It is based on aggregated data from ongoing industry reporting.
The dozens of performance metrics in the report include the following:
Penetration of retail opportunity by institutional deposits and households
Advisor and platform productivity and payout
Year over year revenue and account assets growth rates
Advisor deposit, household and investment account coverage
Managed money revenue mix, growth rate and penetration
Product revenue and sales mix
The per-institution price for firms with over $4 billion in assets is $1,000 for participants and $1,500 for non-participants. For institutions with less than $4 billion in assets the price is $500 for participants and $750 for non-participants. If you would like to purchase the report please contact Janet Cappelletti.
---
Monthly Industry Benchmarking Report
Stathis Partners provides a monthly service for financial institutions, which is a high-level version of the annual report, that focuses on industry performance trends and enables program managers to benchmark their program's performance against monthly industry productivity utilizing metrics such as the following:
• Revenue Penetration of Retail Deposits
• Revenue Penetration of Households
• Total Monthly Revenue per Financial Consultant
• Recurring Monthly Revenue per Financial Consultant
• Monthly Revenue per Platform Rep
• Revenue Mix by Sales and Revenue
This report is an evolution of a similar report Scott Stathis and Janet Cappelletti provided while with BISRA.
This monthly service is free of charge for participants. Not charging for this report allows for a much more comprehensive and accurate base of data. Involvement entails completing a one-page survey once a month which typically takes no more than 15 minutes.
Participation in this initiative is a contribution to overall business intelligence in our channel since collection of this data enables us to provide accurate high-level monthly performance reporting to the industry via industry news outlets and associations as well as content for our Industry Leadership Forums which participants are invited to. In addition we are able to offer custom reports for your institution including analysis comparing your program to institutions of similar size and program type as well as a group of peers that you select.
As always, the reports distributed to the industry have individual bank performance listed on an anonymous coded basis.
For the latest release of this report click on thumbnail below.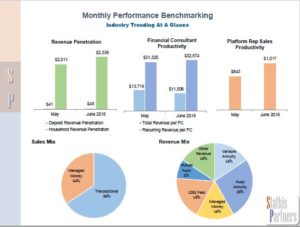 For more information, please contact Janet Cappelletti
---
New Administration Impact on Fiduciary Rule Rollout Plans
In November of 2016 we polled bank and credit union program managers asking the following question:
How will your Fiduciary Rule implementation plans change in light of the incoming Trump administration?
---
Soft Marketing Dollars Survey
In August of 2016 we conducted two polls based on the following multiple choice question:
Has your firm determined that it is okay to accept "soft" marketing dollars from product partners for things like award trips once the rule takes affect?
---
Bank Channel Fiduciary Readiness Report
Released April 5th 2016. Click here to access info and download page.